HYDRO PHYSIO is a range of leading canine hydrotherapy treadmills, designed and developed by a company with over 40 years of manufacturing experience in market leading products.
We strive to create products that are both innovative and of the highest engineering quality. The treadmill systems are developed with input and knowledge gained from both Veterinary and Hydrotherapist professionals, this has helped to create products that are fit for purpose and assistive to the latest rehabilitation techniques.
The ultimate veterinary professional aid in the science of hydrotherapy, HYDRO PHYSIO underwater treadmills help well trained therapists to work to a high standard of animal welfare. A 'no compromise' approach coupled with many unique features, has made these treadmills for dogs the market leader. The first choice for veterinary surgeries and rehabilitation facilities worldwide.
Walk through design with patented twin opening doors

Precise adjustment of system settings. Water depth, speed and temperature

360° viewing angle, offers an airy feel for the patient and ease of analysis for the therapist

Side platforms allow the therapist to work with each dog within the treadmill. Essential interaction for advanced hydrotherapy

Fast fill and empty times of heated and treated recycled water

Clinical grade materials for the construction of the treadmills

Easy maintenance
Contact us for a reference site. With over 1,000 HYDRO PHYSIO systems sold worldwide, seeing working treadmills in action and talking to the best hydrotherapy training centres is always a possibility.
HYDRO PHYSIO Canine Products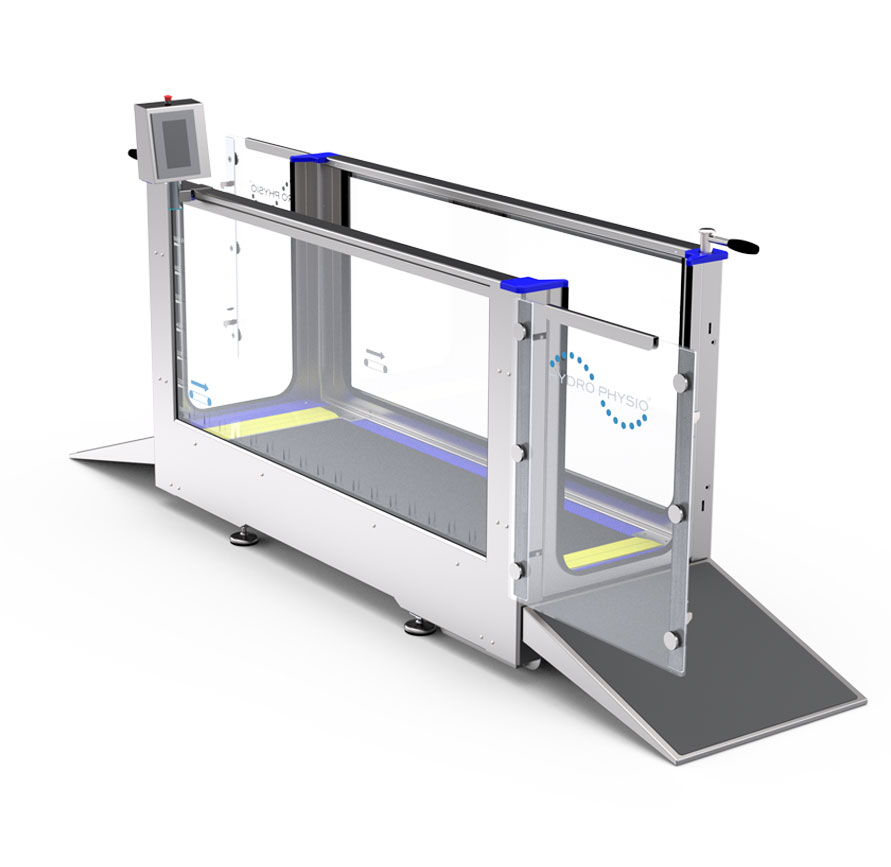 Products To Suit The
patient....and practitioners
HYDRO PHYSIO hydrotherapy treadmills can be specified to the requirements of your practice. For every installation we provide a room design service, placing the equipment on plan to the best possible format for your facility.

From the moment you enquire about a HYDRO PHYSIO, we will endeavour to help you with product options and take you through the process. Our in-house design and sales team have the experience to work with customers to make the best of their space. We can even suggest the best possible training courses that will help therapists to use the equipment safely and effectively. Water maintenance, best practice and advanced therapy techniques courses will help you to use the equipment to its potential.
Our touch-screen controls are designed to be simple, reliable, safe and to the requirements of industry leading Veterinary Hydrotherapists.
Please click on the link to learn more about our hydrotherapy treadmill